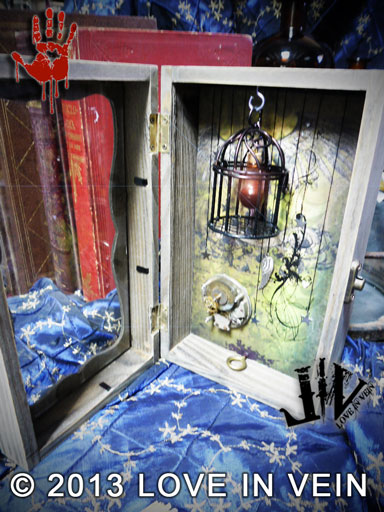 In 2013, we gifted a Love Shrine for an important event.
It holds our blood vial pendants safe while we aren't wearing them, and is a beautiful and personalised reminder of the occassion.

Once again inspired by our love and our desire to capture a tangible symbol of it, these shrines encase it safely and beautifully!

Each shrine is decorated specifically for the couple ordering it:
You can specify which colours you'd like included as well as any special motifs.
Let us know what design elements or visual imagery are special to you, or have significance, and we'll include where we can!
Give us your initials and we'll include them on the back inside in a beautiful font

These beautiful wooden boxes feature:
An opening lid with ornate 'steampunk' style catch
Glass in lid framed by curly cutout
Hanging from top side of box, is a beautiful little hinged birdcage
Inside the birdcage is a little beaker style corked glass bottle for filling with your & your loved ones blood (these represent your captive hearts, held safe away from the world, held safely by each other)
Removable false bottom which doubles up as a drawer (behind this drawer is a hollow full of love letters & notes of adoration (templates waiting to be completed by you)
Real box bottom is hidden by false bottom (drawer) and frames the initials of the couple (I can leave this blank if you'd prefer to put a photo here once you receive your Love Shrine)

The shrine will arrive with all components as shown but will be fully customisable by:
1) Filling the little beaker with your blood (or a mix of your and your love's blood)
2) Completing all little love letter templates
3) Adding photos, memories, mementos into the various compartments of the Shrine
4) Including a lock of hair

Unique, customized and personal, this makes a gorgeous wedding or anniversary gift!

Copyright © 2014 Love In Vein inc. All rights reserved.